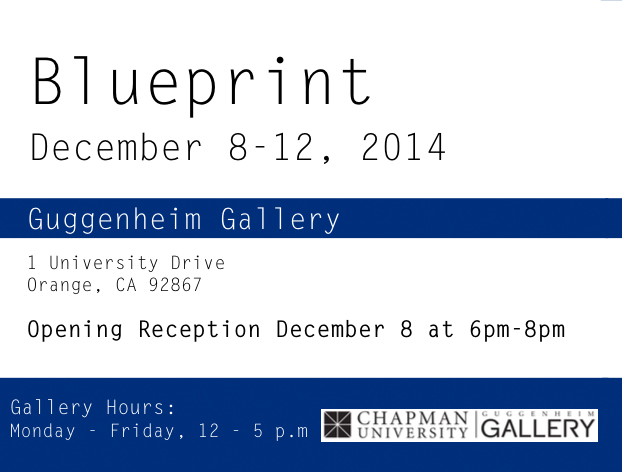 Blueprint
Fall Departmental Exhibition 2014 
December 8 — December 12, 2014
Chapman University's Guggenheim Gallery is proud to present BLUEPRINT, the 2014 student departmental show. The exhibit is designed as a model house, so it includes a living room, kitchen, bathroom, and a bedroom where each room will feature a variety of student artwork. Stop by our open house and check out the works submitted by over 40 Chapman's Studio Art and Graphic Design students. There will be delicious drinks and aux d'oeuvres available for our all our guests who attend. The free event is open to the public and will be held on Monday, Dec. 8 through Friday, Dec 12.
The placement of the artwork within BLUEPRINT is strategically selected after being voted in by our team of faculty judges. Our intention is to purposefully select artwork to properly fit in each room within the home. What is it that deems a certain piece acceptable in the living room, but not the bathroom? Is there some art that is simply meant for the home, and some that is not? This exhibition explores the concept of aestheticism in which the artwork and its environment work together to generate the true facet and beauty of art. One could easily say that an artwork alone is "pretty". However when a piece is placed in a specific environment, the meaning of the artwork is altered completely. Whether it be a painting, drawing, or a sculpture, we must be conscious of the space they are surrounded by because ultimately, that is what makes the artwork uniquely pleasing to each viewer. BLUEPRINT invites our viewers to think critically about what makes artwork successful in its environment. The gallery is creating a conversation about what makes one piece aesthetically pleasing in one environment versus another.
We are very excited to be able to open our doors to our community to showcase the talents of our artistic students in this beautiful home. We welcome you into our home to explore these ideas for yourself!
VIPER!!!

Spring Departmental Exhibition 2014 
May 5 — May 9, 2014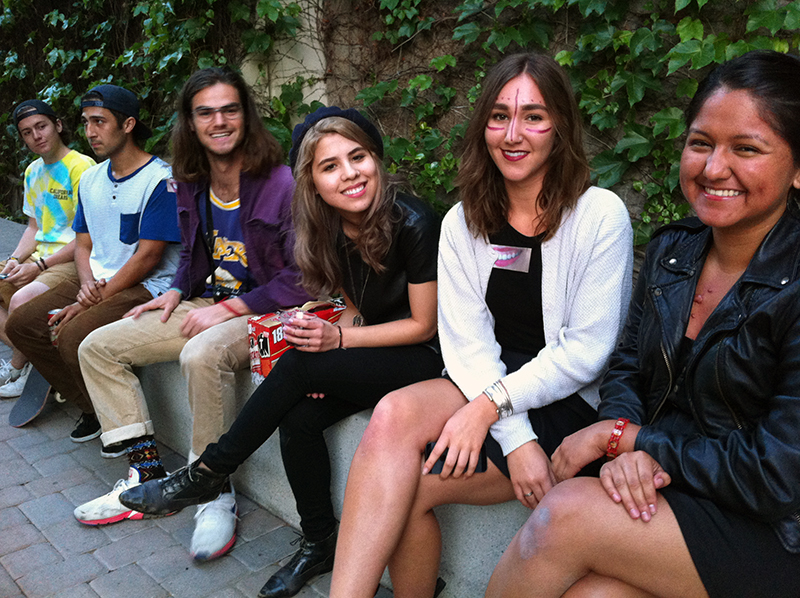 (click image for gallery)
The Guggenheim Gallery at Chapman University is juiced to present VIPER!!!, the biannual juried departmental exhibition that'll knock your socks off! Curious about trending styles? Dank aesthetics? Swag concepts? Comprised of works deemed successful by vote from both art department faculty and the student committee, the age old question of selection process emerges. How is this done? Isn't art subjective? An opinion? Gleaned from last Spring's thought provoking exploration in JOY DIVISION, with salon-style inclusion of every artist who submitted, and definitive delineation of those accepted and rejected; we see relevant to our Western culture the institutional effects of competition transparent in the realm of art-student practices today. Submitting to this common ground for the purpose of exchange, VIPER!!! dramatically offers a sharp collection of student artworks realized to make the cut. A platform constructing the field we agree to see and the game we choose to play. It's a mouthful but don't beat around the bush, VIPER!!! is ready. Are you?
Artists include: Alana Easting, Alessandra Rosser, Alex Bull, Alexa Sarcona, Andrew Han, Bianca Adamo, Caitlin Albitton, Casey Pearson, Casey Wyman, Cassidy Scanlon, Cheri Siefew, Cheyenne Gorbitz, Christian Elsegio, Christopher Zermeno, Dani Planto, Delaney Anckaer, Erica Loelly, Gabe Linkiewicz, Gi-Ling Lo, Gretchen Grage, Hannah Brockway, Henry Kuckens, Jake Sarmiento, Jessica Bergman, Kassidy Neil, Katie Murphy, Kelsey Hart, Laura Garcia, Maddi Lucas, Mai Chaoulli, Melanie Pak, Morgan Fansler, Morgan Geffner, Natalie Frisinger, Nimah Gobir, Olivia Grarf, Priscilla Soto-DiNapoli, Rachel Becker, Rachel Deering, Reed Matthews, Susroni bommidala, Sophie Lerner, Sean Imayanagita, Savannah Carlson, Tim Cook, Tony Tianyi yin, Tanya Lueck, Tyler Samano, Yelena Liepelt Collaborations: Casey Wyman & Theo Niarchos, Maddi Lucas & Julie Russo
Thank You Come Again
Senior Show 2014
April 14 –– April 18, 2014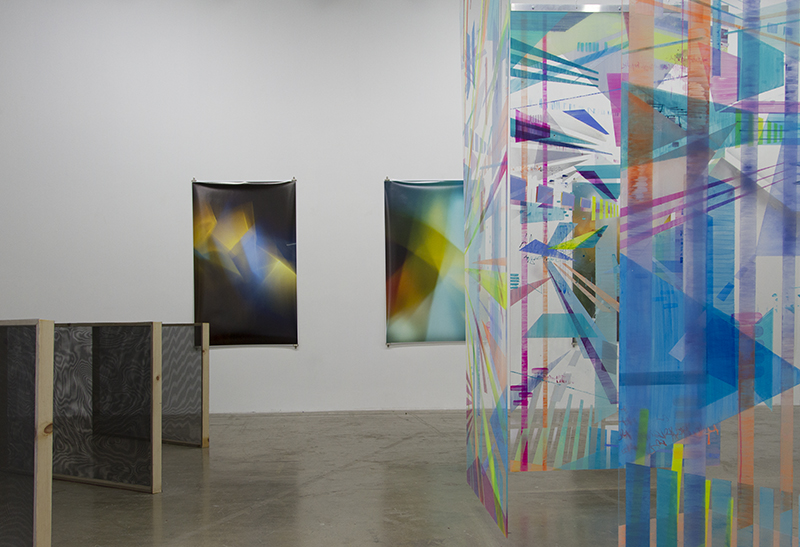 (click image for gallery)
The Guggenheim Gallery at Chapman University is pleased to present Thank You Come Again. This survey of work from the Bachelor of Fine Arts seniors has a common focus on physical, virtual, and implied spaces. The exhibition showcases the individual practices of the artists ranging from painting and photography to installation and video.
An environment is what our mind perceives as the physical elements outside of our bodies. It is the combination of our senses that allows us to perceive our individual realities. The "white cube" allows us to experience art as an entity seemingly separate from the outside world. It is a reality, which exists on its own time and by which the artists have created their own spaces. While some of the work requires viewer interaction and participation to evoke meaning, much of the work in this show depicts a space that exists elsewhere at a different time. Beyond the physical and implied space, there is a communal space that exists in the virtual world that has become recognizable due to its accessibility. This exhibition brings all spaces together in the gallery, reminding us where we exist in time and space.
Theo Niarchos was born in the south of France in 1991. He was raised in Paris until the age of 13, when he radically moved to Hawaii. This extreme change of lifestyle and surroundings were able to give him very different and opposite experiences and perspectives that he attempts to tie-in in his work today. The natural and un-natural, the material and the immaterial, the fake and the real, the conscious and unconscious… are all elements that Theo takes In and transfers through his studies.
Julie Russo is an installation and video artist based in Orange County, California. Her work reflects her investigation into the relationships between art and science, and the human interaction with technology. Julie Russo has shown at Chapman University's Guggenheim Gallery in several group shows including 1000 Onethousand Art (2013), and student juried exhibitions #HASHTAG (2013), Joy Division (2013) and a solo show in the Flaboheim Project Room Warped Spaces (2012). Russo has been involved with a collaborative project that has shown her work in (en)Gendered (in)Equity at the West Los Angeles College Art Gallery and will be showing at For Your Art in March 2014.
Jennifer Seo lives and works in Los Angeles, CA. She is on the verge of receiving her B.F.A. from Chapman University. She prefers to do large scale paintings. In her painting practice, she communicates to the viewer an immersive experience. Her paintings utilize visual devices walking the line between abstraction and layered geometrical/architectural forms yet energized with dynamic textures and colors. The work negotiates a visual harmony not only with natural and unnatural elements, but also with the balance of her own relation and state of being within it.
Dylan Trumbull is an artist who is currently learning and making work out of Orange, California. Originally born and raised in Irvine in 1992 he is attending now Chapman University where he is in his last semester in earning his B.F.A in Studio Arts with an emphasis in photography. His artistic practice is very open, as he explores different mediums. Dylan works in photography, video, and performance. Dylan Trumbull's work often explores the physical body and relations to athleticism, abstraction attempting to use shape, line, color and time to change the viewers way in looking, and institutional critique.
Ethan Young was born in Seattle, Washington in 1991.  He is earning a B.F.A. in Studio Art from Chapman University.  With a background in design and technology, Young consistently integrates elements of each into his studio work.  His paintings and installations conceptually surround the post-modern idea of the death of the author, and subsequent emphasis that is then placed on the viewer.  Young produces his work to literally interact with viewers, whether through optical illusion or motion-capture manipulation.  Ethan Young has participated in two group shows in the Guggenheim Gallery at Chapman University (2012-14).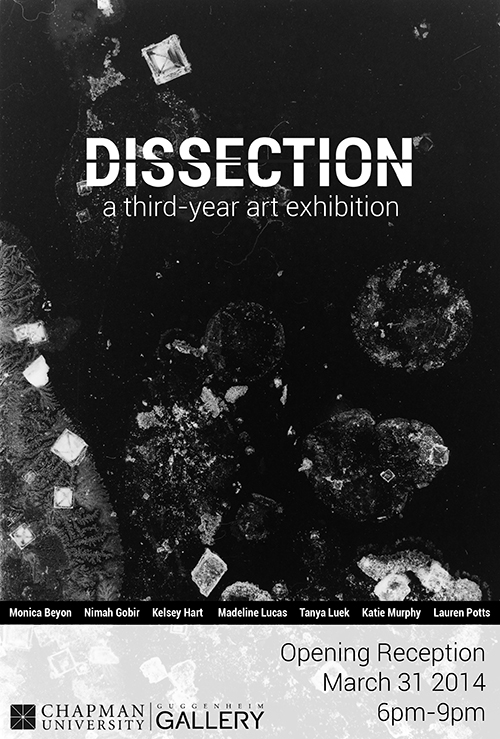 Dissection
Junior Show 2014
March 31 –– April 4, 2014
Monica Beyon, Nimah Gobir, Kelsey Hart, Madeline Lucas, Tanya Luek, Katie Murphy and Lauren Potts
The third year BFA students of Chapman University's Studio Art program are pleased to announce the opening of their spring exhibition. Dissection features artists working in a variety of mediums, each exploring in their respective ways how to deconstruct meaning with creative interpretations. Through division, separation, disassembly, and reconstruction, each artist creates a new space (either physical or psychological) for viewers to explore.
FEATURED ARTISTS:
Monica Beyon was born in Chicago, Illinois. She is currently an art major at Chapman University. Since she was a child, she has travelled between South Korea and America intermittently.  This travelling between two countries gave her the opportunity to develop a perspective of how the two cultures are developed and organized. She has been interested in exploring systems and relationships within a city. She has found this process of creating her own artworks to be a system because it forces her to explore the complexity of a system of a city. Through a careful lens, she attempts to create an artwork where a person can see the system she created.  She hopes through her artworks, people would notice the complexity of a system.
Nimah Gobir, while born in Los Angeles, calls the Bay Area home. Except for a fascination with portraits, she has no loyalty to one theme or medium. Exploration and play are central to her work. Recently, she has been using mixed media to combine images of mothers in a more sophisticated rendering with child-like accents to explore the relationship between matriarchs and the divine. This theme has emerged from curiosity about youth and art production, but also an interest in how the idea of God and Goddess can be interpreted in various ways.
Kelsey Hart was born in the autumn of 1993 in Southern California. While she dedicates much of her free time to documenting alternative youth culture and live performances by musicians, her art practice combines themes of identity, nostalgia, and layering. She has been experimenting with alternative photographic processes for the past 5 years, as well as delving into the world of mixed media through video, collage, and installation.
Tanya Lueck is a musician and artist originally from Satellite Beach, Florida. As an artist she has mainly focused on drawing and painting, but has taken a recent interest in ceramic sculpture. Her work predominantly focuses on the human figure, and often expresses mixed emotions in order to make the viewer think. Many themes in her artwork are also influenced or inspired by music, sometimes with a direct connection and sometimes in more subtle ways. She is continuing to develop more specific concepts in her work as she explores the world of 3-dimensional art.
Kate Murphy was born and raised in the Bay Area. After distinct life events, she has a growing passion for the sciences. Through all her work, which has varied drastically from photorealistic architectural paintings, to organic forms of cells and systems within the body, to her latest3 interest in space, you will find one common theme; through the union of perspectives and perception within the work, she draws the viewer into the world she has created.
Lauren Potts is a 20 year old San Jose native whose mixed-media work focuses on the relationship between her art and contemporary trends in common culture. As she is currently an undergraduate student attending university, Lauren focuses much of her attention on the college lifestyle, gathering inspiration from her fellow students as well as employing ideas from her own personal experiences