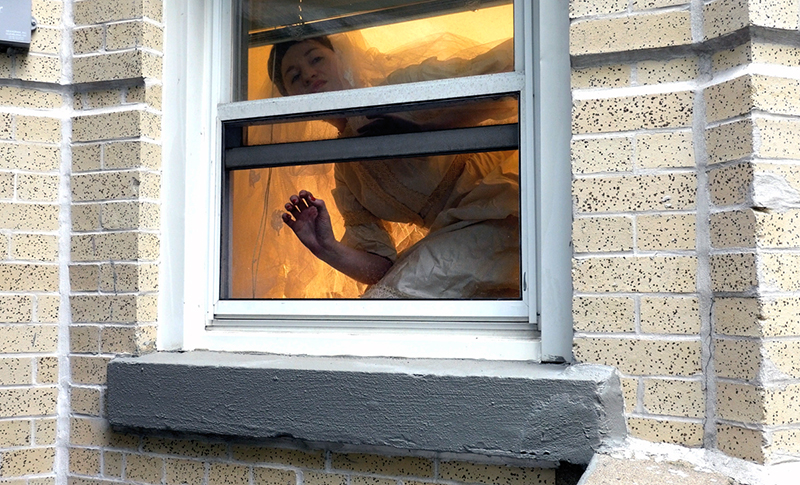 Jennifer Sullivan, Window Kitty, 2015, HD Video, Sound, 3:18 min
My Skin is My Krustle (Pink Marble)
Carmen Argote
Lynda Benglis
Young Joon Kwak
Lila de Magalhaes
Jennifer Sullivan
Xina Xurner
curated by Marcus Herse
August 29, 2016 – September 25, 2016
Guggenheim Gallery at Chapman University
One University Drive, Orange CA 92866
Please join us for the artist reception and catalog presentation on
September 25, 2016 from 3:00 P.M. to 5:00 P.M.
Showing video works at the interstice of self awareness, identity politics and the normative offerings of mass and social media, this exhibition presents a selection of feminine perspectives on the sensual realities of excessive acquisition and collecting (hoarding), appearance enhancement (cosmetics), sexual selection (dating), and free time.
Skin, next to eyes, ears and nose, connects our inner experience to the exterior as one of the body's sensual boundaries, and is only the first layer within which we live and relate to the world. Our skin gives us an instantaneous impression of our surroundings, and we notice if it's warm, cold, wet, dry, still or breezy. Through it we understand the broad palette of human interaction, from our parents' affection to our lovers' touch. The importance of our largest organ is reflected in a trove of idioms. We feel at home in our skin, my sister is thick skinned and last nights movie got under my skin. We take care of it with baths and lotions, and we use it to communicate our identity, with make up, or using permanent images, wearing Brandings or tattoos.
As we zoom out, and away from the body, clothing and architecture appear as secondary and tertiary layers of protection and identity. While important to one's well-being, they are not directly part of the body, and successively have more to do with communicating our self image and our status within society; Modes to show one's convictions, preferences and personality.
The triage of skin, clothing and habitation lies at the core of the individuals' sense of identity. Navigating between the possibilities and constraints of these forms the works in the exhibition explore notions of home and the meanings of inhabiting any one of these realms. From the contacts we make to the stuff we collect, to the the right place or person that makes you feel at home; Our skins can be krustles indeed.
Carmen Argote is a Los Angeles based artist who's work focuses on the exploration of personal history through architecture and the spaces that she inhabits.
Argote received her MFA from UCLA in 2007 and attended the Skowhegan School of Painting and Sculpture in 2009. Argote exhibited at the Vincent Price Museum 2013, and was commissioned for the Metro Expo Line station at 17th/SMC station in Santa Monica.  A Vast Furniture, opened April 2015 at the MAK Center for Art and Architecture and in the desert at a Hight Desert Test Sites location in Wonder Valley. This year, Argote opened two solo exhibitions, Mansion Magnolia at Shulamit Nazarian Gallery and Alex's Room at Commonwealth and Council. Argote will be featured in Mi Tierra: Contemporary Artists Explore Place at the Denver Art Museum opening 2017. Argote's work will also be included in The Getty Foundation's Pacific Standard Time: LA/LA  Home-So Different, So Appealing exhibition, which will be held at the Los Angeles County Museum of Art in 2017.
Lynda Benglis was first recognized in the late sixties with her poured latex and foam works. Benglis's work created a perfectly timed retort to the male dominated fusion of painting and sculpture with the advent of Process Art and Minimalism. Known for her exploration of metaphorical and biomorphic shapes, she is deeply concerned with the physicality of form and how it affects the viewer, using a wide range of materials to render dynamic impressions of mass and surface: soft becomes hard, hard becomes soft and gestures are frozen.
Lynda Benglis resides in New York, Santa Fe and Ahmedabad, India. She is the recipient of a Guggenheim Fellowship and two National Endowment for the Arts grants, among other commendations. Benglis's work is in extensive public collections including: Guggenheim Museum; Los Angeles County Museum of Art; Museum of Modern Art, New York; The National Gallery of Victoria, Melbourne, Australia; San Francisco Museum of Modern Art; Walker Art Center, Minneapolis and the Whitney Museum of American Art, New York.
Roberta Smith wrote in The New York Times on February 17, 2011 of Benglis's retrospective, "Whether you have been watching Ms. Benglis's varied career for decades or know her primarily from the latex pieces and her star turn in Artforum, this exhibition pulls together and elaborates her remarkable career in a thrilling way. It proves her work to be at once all over the place and very much of a piece, as well as consistently, irrepressibly ahead of its time. This would seem to be every renegade artist's dream."
Young Joon Kwak is a LA-based multidisciplinary artist, founder of the performance collaborative Mutant Salon, and lead performer in Xina Xurner. Kwak has had solo exhibitions in Chicago, LA, and South Korea, most recently at Commonwealth and Council (LA, 2014), and has performed and exhibited at venues such as the Hammer Museum, REDCAT, Honor Fraser Gallery, Night Gallery, LACE, the Broad (LA), Southern Exposure (San Francisco), Regina Rex and Smack Mellon (NYC), and Pavillon Vendôme Centre d'Art Contemporain (Clichy, France).
Jennifer Sullivan is a New York-based interdisciplinary artist. Solo exhibitions include Revenge Body at Five Car Garage, Los Angeles, CA (2016), House Cat at Arts + Leisure, New York, NY, (2015), Big Girl Paintings, Five Car Garage, Los Angeles, CA (2014), Adult Movie, Las Cienegas Projects, Los Angeles, CA (2011), and One-Week Walden, Freight + Volume, New York, NY (2010). Sullivan has also exhibited and performed in exhibitions at PS1, Essex Flowers, Pablo's Birthday, 247365, Klaus Von Nichtsaggend, and Arthouse. Awards include a fellowship at the Fine Arts Work Center, and residencies at Skowhegan, Ox-Bow, and Yaddo. Her work has been reviewed in the NY Times, Artforum.com, and Art Papers, and her videos are included in the Geisel Library collection at the University of California in San Diego.
Lila de Magalhaes was born in Rio de Janeiro in 1986. She grew up in Zurich and received her MA at the Glasgow School of Art between 2004-08, where she lived until she relocated to Los Angeles to get her MFA at USC in 2011. She currently lives and works in Los Angeles. She was recently included in exhibitions at UP STATE, Zurich, Blood Gallery, NY, Freud Museum, London, Chin's Push, LA, and DIANA, L.A.