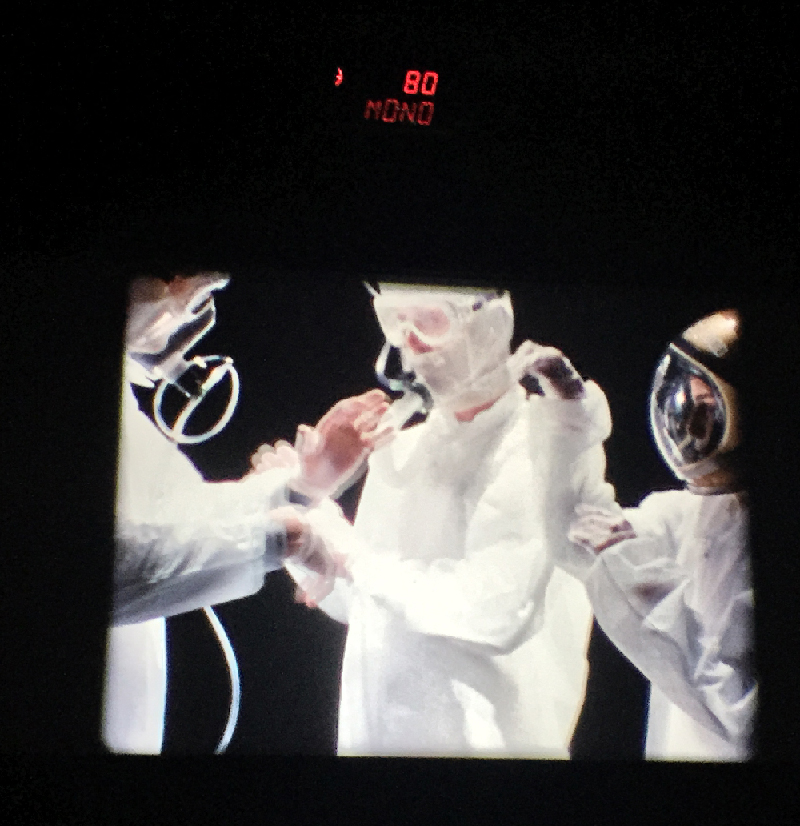 UP-ISH
Dewey Ambrosino
Kristi Lippire
Renée Petropoulos
Margo Victor
Jennifer West
organized by Marcus Herse
February 1 – March 11, 2016
Please join us for the artist reception and catalog release on Sunday March 13, 2016 from 4-6 p.m.
Guggenheim Gallery at Chapman University
One University Drive
Orange CA
Aside from its meaning as a state of psychological well being, the word 'high' implies value and authority. High school, high art, and high culture are respectively the best versions, and prepending 'high' to these nouns attests to the quality of their objects. The German term "Hochdeutsch" (High-German) suggests that the most accent-free type of speech is superior to all other dialects, and that there is a right and a wrong way of speaking the language even though grammatically there is no difference. High can also imply unobtainability, a desired result may be out of reach, and of course we must ask– high in relation to what? Naturally, to its counterpart, 'low' – Go figure. Deepening this thought, however, we see that when speaking about high versus low culture we ultimately speak about the Judeo-Christian concepts of good and evil, Heaven and Hell, and all their implied value judgments. Through this language we inform our politics, ethics and philosophy and not, at last, our aesthetic decisions.
Well, how do you get high? – By going up.
Up, in contrast, speaks about directionality, and although it could be used to describe how to actually get from Hell to Heaven, the word leaves the destination undeclared. Even when you're high you can still go up. While up is also situated within the polarity of high and low, it itself is relative to the individual agent's position within the whole, as opposed to high which suggests an absolute point of reference, the final desired state. Up emphasizes the path, not the outcome, it emphasizes possibility along the way, rather than a value judgment.
Lastly the 'up' we are talking about must not be confused with the relentless brutality of the positivism prescribed by the media and the advertising industry. Our 'up' leaves questions of superiority and functionality behind, and asks for our position within the whole, the individual within the structures of our world, in which we move in more or less straight lines, upward-ish.
In this sense, up is the direction the artists in the show take, to elevate us and see our world from remote vantage points. Some literally lift the camera into the air or focus their lens onto celestial bodies, while others move up in spiritual ways, placing our understanding of the political, economic and scientific order 'up and away', outside of society's usual lines of vision.
Dewey Ambrosino's practice examines the presence of absence through subtraction and transmutation.  It explores how action can reveal cultural conditioning when applied to material elements and signifying objects.  It observes how the poetics of aesthetic phenomena combined with our longing for sensation create matrices of imagination and meaning.
Ambrosino exhibits and performs internationally, and is current faculty at Art Center College of Design.  Recent solo exhibitions include: Rosamund Felsen Gallery, Long Beach City College Gallery, Las Cienegas Projects.  Recent group exhibitions include: Sàn Art – Ho Chi Minh City, VietNam, Samuel Freeman Gallery, UCLA Hammer Museum, New Art Center, Newton, Ma, Earmeal Performance Series, 356 Mission Gallery, Picnic Invitational, ReModel Sculpture Symposium @ Claremont Graduate University, Trespass/Parade – LACMA & West of Rome Public Art, LACE, Goethe-Bunker – Denmark, MOCA LA, MOCA Miami, Municipal Art Centre Fundación Astroc – Madrid, Spain, ARCO International Contempoary Fair, Coachella, Nueva Cinema Festival – Laforet Museum Harajuku, Tokyo, Internationale Kurzfilmtage 49 – Oberhausen.
Kristi Lippire makes large-scale objects that reference the visual culture that surrounds her every day. Her work explores scale through materiality, skewing moments that emphasize humor within our complex social culture. Lippire received her MFA from Claremont Graduate University and BFA from California State University, Long Beach. Her work was included in the exhibition, Alexander Calder and Contemporary Art: Form, Balance, Joy that opened at the Museum of Contemporary Art in Chicago and travelled to Nasher Sculpture Center in Dallas, Orange County Museum of Art, and Nasher Museum at Duke University. She has had solo exhibitions with Commonwealth & Council, d.e.n. contemporary art and Ace Gallery and group exhibitions at Torrance Art Museum, Glendale College Art Gallery, and Riverside Art Museum. She recently completed a three-week residency and exhibition at Queiros Galeria in Guanajuato Mexico. Lippire is also an independent curator and recently completed a F.O.C.A. Curator's Lab project in late Spring of 2015. This spring Lippire will be exhibiting a new outdoor sculpture as part of the Sam Maloof Foundation's Biennial Garden Exhibition in Mira Loma, CA.
Margo Victor is a Los Angeles based filmmaker, visual artist and musician. She has been making 35 & 16 mm avant-garde films, since the mid 90′s. While at the California Institute of the Arts she studied with Michael Asher and Jules Engel. Her films and installations have been exhibited in Los Angeles, NYC, Paris and Cologne; a solo exhibition of film and sculpture was at the Los Angeles Museum of Art (or LAMOA) in 2013 and she maintains a concept band with revolving personnel called Black Flower.
Renée Petropoulos has created projects and exhibited internationally. Most recently embarking on the project "Among Nations (Mostly)" with a performance "Analogue" (2012) at the MAK, Venice to Venice (2012)  as part of the Hammer Museum's Made in L.A. and "Women in Surrealism" for LACMA (Los Angeles County Museum of Art). "Black Star", begun in 2006, is a performance in continuum in Berlin.  Her most recent installment of "Prototype for the History of Painting: Eingrouping Social Historical" was installed in MARTE San Salvador, El Salvador.  Her recent film, "Two or Three Things I Know About Gas Station Mini Marts" screened at Screening, in Philadelphia.   The outdoor public sculpture project "Bouquet"(Flower Tower) Between Egypt, India, Iraq, the United States, Brazil, Ethiopia, and Mexico", situated in Santa Monica, California at a street and pedestrian intersection was completed in spring, 2014.   An exhibit of related subject, "Bouquet(Flower Girl) Between Libya, the United States and Scotland", was installed at LAMOA in Eagle Rock in May 2014.  Petropoulos' monument drawings were also included in "Forms of the Formless" at Beijing Moca, curated by Marlena Donahue.
This past fall she presented a new project, From the United States to Mexico/ From Mexico to the Untied States, at Commonwealth and Council which included a choreographed performance. She is currently exhibiting Monument 1 – conjugation, with the Proxy Gallery in Paris. In 2016, a cd of sound work, Between Libya, the United States and Scotland, created with composer Greg Lenczycki, will be released.  In the fall of 2016 a new work will be performed with the Isaura String Quartet. She just returned from Naples Italy where she has been working on a collaborative project, with Neopolitan scholar, Denise Spampinato.
Jennifer West is an artist, who for over ten years, has gained international recognition for her explorations of materialism in film.  Significant commissions include High Line Art, New York and the Turbine Hall at Tate Modern, London, Aspen Art Museum, among others.   Her work is included in numerous public collections, including the Los Angeles County Museum of Art, Los Angeles, California; the Hammer Museum, Los Angeles, California; the Columbus Museum of Art, Columbus, Ohio; the Kadist Art Foundation, Paris, France, and San Francisco, California; the Saatchi Gallery, London, United Kingdom; the Rubell Family Collection, Miami, Florida; the Museum of Old and New Art, Hobart, Australia; the Zabludowicz Collection, London, United Kingdom.  West's solo exhibitions include Lisa Cooley Gallery, NYC; Focal Point Gallery, Essex, UL; S1 Artspace, Sheffield, UK; Contemporary Arts Museum, Houston, Texas; Kunstverein Nürnberg, Germany; Transmission Gallery, Glasgow, UK; White Columns, New York; Vilma Gold Gallery, London and Marc Foxx Gallery, Los Angeles.  She is currently a resident at EMPAC, Renssalaer Polytechnic Institute, Troy, New York, and was an MIT List Visual Arts Center resident in 2011.  West's work has been included in numerous group exhibitions internationally at such venues as Palais de Tokyo, Paris, France; Carnegie Museum of Art, Pittsburg, PA; Kunsthalle Schirn, Frankfurt, Germany; Saatchi Gallery, London, UK; Drawing Center, New York, NY, to name a few.  She has lectured widely at such venues at the Tate Modern; ICA, London; LACMA; Jewish Museum, New York, NY, among many others.  West's writings have been published in Artforum, she has produced ten artist books and her work is the subject of a monograph   West is represented by Lisa Cooley Gallery, New York; Vilma Gold Gallery, London and Marc Foxx Gallery, Los Angeles.  West received her MFA from Art Center in Pasadena and her BA from the Evergreen State College in Olympia, WA.  She is an Asst. Professor of Fine Arts Practice at USC's Roski School of Art and Design, Los Angeles.   Upcoming, she has solo exhibitions at Tramway Art in Glasgow Scotland and Seattle Art Museum in fall of 2016 and she will be staging an interactive film performance for Art Night presented by ICA London.