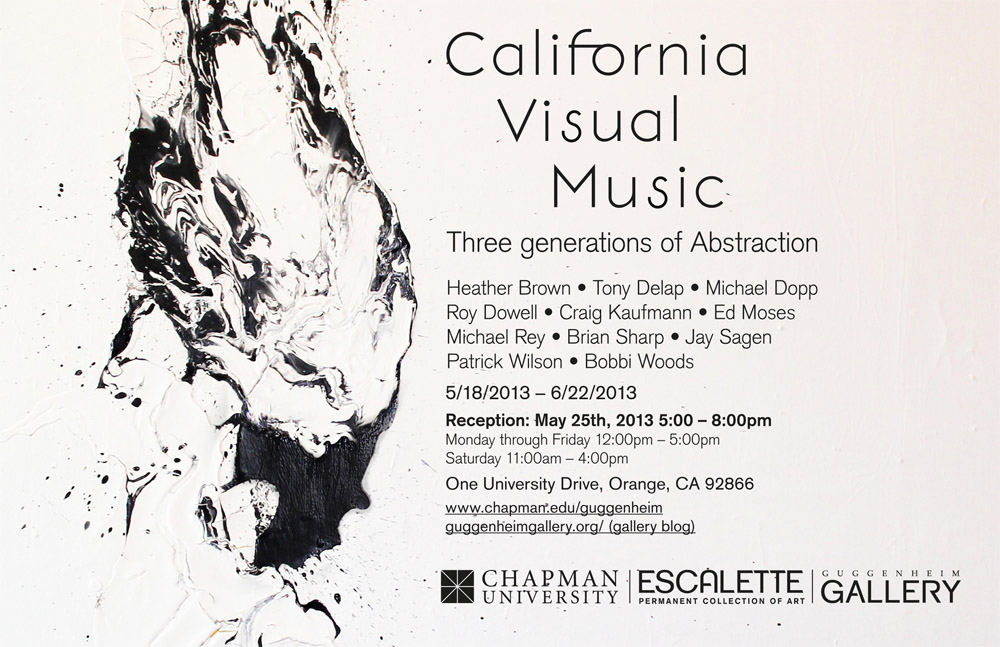 California Visual Music
Three Generations of Abstraction
May 20, 2013 – June 15, 2013
Please join us for the opening reception on May 25, 2013 from 5-8pm
Heather Brown
Tony Delap
Michael Dopp
Roy Dowell
Craig Kauffman
Ed Moses
Michael Rey
Brian Sharp
Jay Sagen
Patrick Wilson
Bobbi Woods
The Guggenheim Gallery at Chapman University in conjunction with Chapman University's Escalatte Collection is pleased to presentCalifornia Visual Music – Three Generations of Abstraction. The exhibition brings together work from L.A.'s vital art scene with selected pieces from the Escalate Collection that exemplify key innovations in abstract art.
Abstraction's debut on the California stage was initiated by pioneering gallerist Felix Landau and the legendary Ferus Gallery in the 1950's. The 1960s and 70s brought Finish Fetish and Light and Space, distilled from op art, minimalism and geometric abstraction, which are identified with the American West and are tied to a unique period in which many California artists investigated the picture plane beyond the concerns of the canvas and representation. Craig Kaufman, Tony Delap and Ed Moses, whose works are highlights of California Visual Music, developed a discourse with regional specificity in company with artists such as Robert Irwin and James Turell.
Most recently, the broad field of what abstraction could mean is being re approached by a new generation of L.A. artists. Some of the most vivid of these new positions are featured in California Visual Music alongside their predecessors. The exhibition examines the heritage and influence of classical abstraction while presenting a survey of strategies that continues to bring new insights, from the serendipitous experiments of light and space to the manias for new materials and properties of color.
Co-curated by Marcus Herse and David Michael Lee