June 30, 2013 – September 14, 2013
Opening Reception on June 30, 2013 from 11am – 2pm
Artist Reception on September 11, 2013 from 6-9pm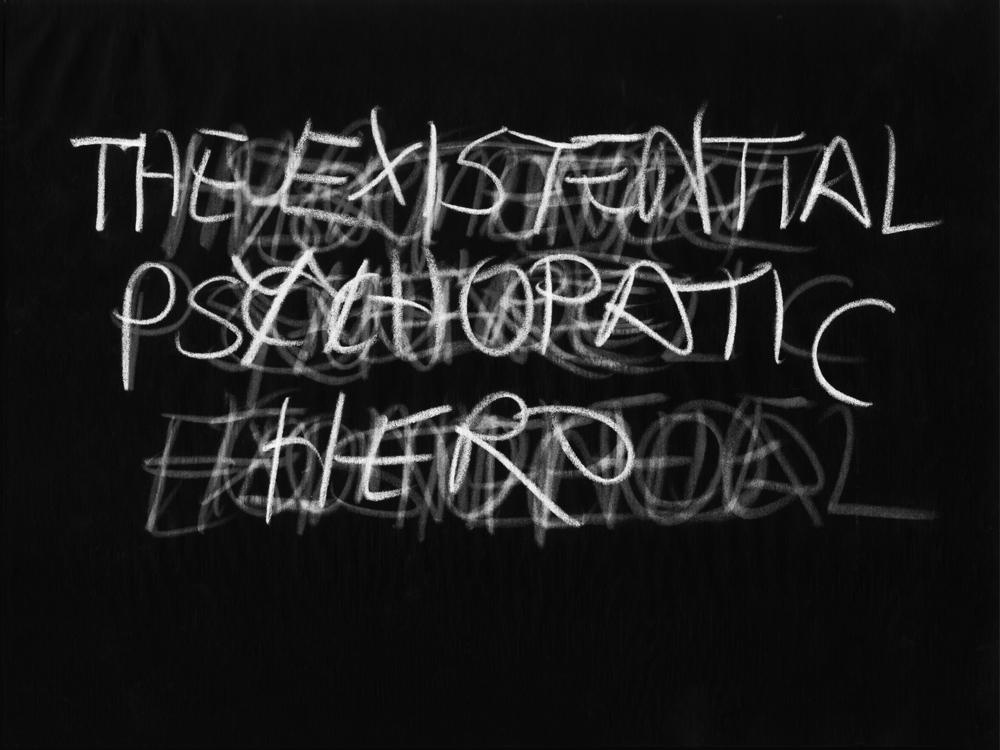 The Guggenheim Gallery at Chapman University in conjunction with the 2013 California Pacific Triennial is pleased to present Syrop & Chang. York Chang's and Mitchell Syrop's exhibition explores the artists' interest in the fabrication of narratives and supposed truths through the authority of text and context.
Mitchell Syrop has been investigating the written word in previous bodies of work, hereby drawing connections between text and its qualities as an image. His maniacally written abstracts, blow-ups of scribbled notes are concerned with ambiguities of language, the visual properties of its presentation, identity, and interchangeability. The physio-psychological aspects of the work and its self-deprecating content are disrupted by the technical sophistication and confidence of the final image, evidence of performative actions, presented in a distanced manner.
York Chang's interest in text lies with its possibility to create history. Via the construction of a fictitious historical art movement, the "visceral realists" and the re-enactment of actions attributed to the group, he challenges the notion of the grand historical narrative, which contemporary art is committed to. He exposes it as similarly arbitrary, playing with its function as creating meaning, and makes us aware of a society drawing conclusions based on truths, which are always created one-sidedly, as is mostly the case, by the ones in power. The notion of the type of political and actionist artist that the visceral realists promote is an option that although it never existed, indeed had its moment in time. Chang poses questions of identity and authorship in creating these heroes, which are not a romantic fantasy, but rather a poetic improvisation on art history's keyboard. This in turn is utterly contemporary.
Where Syrop is direct, expressive and sometimes goes blue, Chang answers in his deadpan, sly and calculated style. The pairing of their different methods of investigation provides commonalities, and exciting new constellations and timbres of their respective work, while showing the continuation of conceptual approaches in L.A.'s most recent art history.
Mitchell Syrop was born in Yonkers, New York and lives in Los Angeles. He earned his BFA in 1975 at Pratt Institute, Brooklyn, NY, and his MFA in 1978 from the California Institute of the Arts, Valencia, CA. Many of the methodologies and concerns found in his early work, remain fundamental elements of his work to this day. He often returns to earlier works and starts again where he left off, almost following a psychoanalytic model. Over the course of his career he has worked with a wide range of materials and approaches including photography, film, video, sculpture, writing, performance, as well as, computer based production and presentation methods. Although his practice is frequently regarded as "conceptual", it is not theory driven. Additionally for the past 24 years he has taught at a number of academic institutions in the Los Angeles area including faculty positions at ArtCenter, CalArts, USC, Otis, and Chaffey Community College.
He has been exhibiting his work for the past 30 years, throughout the United States, Europe, and Asia. Significant exhibitions include: Avante-Garde In The Eighties, Los Angeles County Museum of Art, Los Angeles, CA (1987), Striking Distance, Museum of Contemporary Art, Los Angeles, CA, (1988), The Photography of Invention: American Pictures of the Eighties, National Museum of American Art , Washington DC (1989), A Forest of Signs: Art in the Crisis of Representation, Museum of Contemporary Art, Los Angeles, CA (1989), Constructing A History: A Focus on MOCA's Permanent Collection", MOCA, Los Angeles, CA (1990), Special Collections: The Photographic Order from Pop to Now, Int'l Center of Photography, NYC (1992), Tomorrow Land: A Tribute to CalArts, Museum of Modern Art, NYC  (2006
York Chang (b. 1973, St. Louis, MO) is a conceptual artist and painter who manipulates the cultural projection of ideology, fanaticism, identity and political power. He creates immersive "total" installations, exploring the exhibition construct's potential for literary fiction writing and turning forensic and archival information systems into supports for poetic gestures. Chang's work often explores fiction and deception, blurring conventional notions of authorship, appropriation, and credibility in cultural production. He earned both his BFA (1996) and Juris Doctorate (2001) from University of California, Los Angeles (UCLA). York Chang lives and works in Los Angeles, CA.
Select exhibitions include York Chang: The Winners, Greene Exhibitions, Los Angeles, CA (2013), Ping Pong at Art 43, Basel, Switzerland (2012); Incognito at Santa Monica Museum of Art (2011); The Workers at MASSMoCA (2011); Suelto at La Central Gallery, Bogotá, Colombia (2011); Open Daybook at Los Angeles Contemporary Exhibitions (2011); ARCO Madrid with g727, Madrid, Spain (2010); ZOOM at the Torrance Art Museum, Torrance, CA (2009); The Search for the Visceral Realists at the Federal Art Project, Los Angeles, CA (2009); Asian New Media, Center for Democracy at Japanese American National Museum, Los Angeles CA (2008); Hard Left, at Merry Karnowsky Gallery, Berlin, Germany (2008); Legally: An Unethical Happening at the Hyperion Tavern, Los Angeles, CA (2007); Santa Monica Originals at the Arena 1 Gallery, Santa Monica, CA (2005); Open Show 2004, curated by James Elaine, Hammer Museum Curator, Gallery 825, Los Angeles, CA (2004).
Co-curated by Marcus Herse in conjunction with the 2013 California Pacific Triennial curated by Dan Cameron