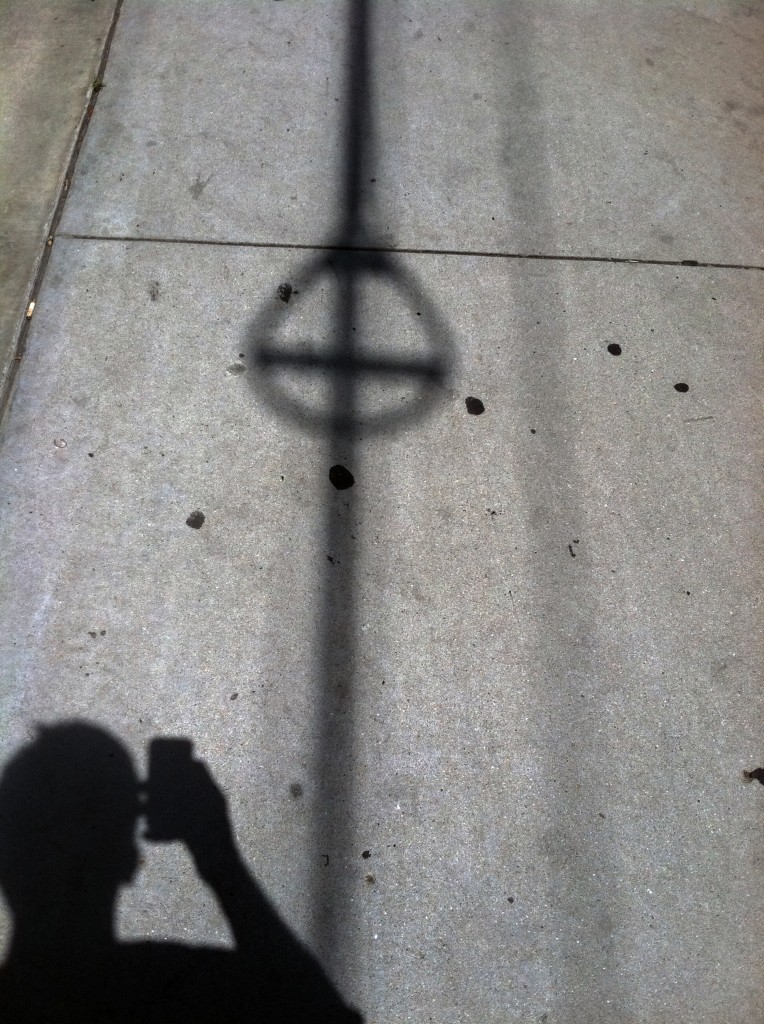 Photo by Geoff Tuck 2013
YOUR SHELL IS MADE OF AIR
January 27 – February 28, 2014
Artist Reception and Catalog Release: Sunday, February 23 from 4-8pm
Hours: Monday — Friday, 12 — 5PM; Saturday, 11AM — 4PM
Chris Burden, Molly Corey, Cayetano Ferrer, Dan Graham, Lia Halloran, Olga Koumoundouros, Aaron Garber Maikovska, Alex McDowell, Isaac Resnikoff, Geoff Tuck, curated by Marcus Herse
The Guggenheim Gallery at Chapman University is pleased to present Your Shell is made of Air. The guiding focus of this survey is the shifting idea of how urban space is perceived. Spanning the period from the late 1960's until today, these conceptions range from political and utopian approaches, to performative interventions and visions of imagined cities.
City space is a manifestation of human life, like a cast that forms in response to human behavior and desire. The shapes of the city, the buildings, streets, squares, shopping malls and residential areas, are the habitat within which we perform our moves, physically and intellectually.
When every environment is only as rich as the actions it allows for, it is a matter of investigating these places for possibilities and applications that are not originally inherent to them. It is the search for these air pockets that brings the artists in the show together. Deviating from this commonality, the searches touch upon ideas of the city as a playground, a sociopolitical laboratory, a psychological dérive, and the exploration of future urban systems in sci-fi cinema.
An artist reception will be held on Sunday February 23, 2014 from 4-8pm, coinciding with the release of the exhibition catalog designed by U&I Design, and featuring essays by Jan Tumlir, Amy Howden Chapman and Marcus Herse.
Chris Burden was born in Boston, Massachusetts in 1946. He moved to the California in 1965 and obtained a B.F.A at Pomona College, Claremont, California in 1969 and later a M.F.A at the University of California in 1971. During the early seventies, Burden's first mature works were characterized by the idea that the truly important, viable art of the future would not be with objects; the things that you could simply sell and hang on your wall.  Instead art would be ephemeral and address political, social, environmental and technological change. Burden, with his shockingly simple, unforgettable, "here and now" performances shook the conventional art world and took this new art form to its extreme. The images of Burden that continue to resonate in public mind are of a young man who had himself shot (Shoot, 1971), locked up (Five Day Locker Piece, 1971), electrocuted, (Doorway to Heaven, 1973), cut (Through the Night Softly, 1973), crucified (Trans-fixed, 1974), and advertised on television (4 TV Ads, 1937–77).
His work has subsequently shifted, focusing now on monumental sculptures and large scale installations, such as B-Car, 1975, The Big Wheel, 1979, A Tale of Two Cities, 1981, Beam Drop, 1984,Samson, 1985, Medusa's Head, 1990, L.A.P.D. Uniforms, 1993,Urban Light, 2008 and Metropolis II, 2010. These works often reflect the social environments, make observations about cultural institutions, and examine the boundaries of science and technology.
Chris Burden works and lives in California and has been represented by Gagosian Gallery since 1991. He has had major retrospectives at the Newport Harbor Art Museum, Newport Beach, California (1988) and the MAK-Austrian Museum of Applied Arts, Vienna (1996). In 1999 Burden exhibited at the 48th Venice Biennale and the Tate Gallery in London. And in the summer of 2008, Burden's 65 foot tall skyscraper made of one million Erecter set parts, titled What My Dad Gave Me, stood in front of Rockefeller Center, New York City. Burden's installations and sculptures, which have been exhibited all over the world, have continually challenged viewers' beliefs and attitudes about art and the contemporary world.
Molly Corey's work examines the malleability of memory and the way history is interpreted, revised, and received. Her art is driven by history: art history, social history, political history and personal history. Through the use of photography, film, video, sculpture and installation her work investigates the political implications of images, the contradictions found in representation and the slipperiness of "truth and history." Most recently she has shown her installation, Letter From an Unknown Woman at the MAK Center/Schindler house in West Hollywood. She has exhibited The Dome Project at The Project in New York, Occidental College in Los Angeles and the UAG in Irvine. Her writings have been published in The Benefit of Friends Collected, A Journal of Artist-on-Artist Critical Writing, ArtUs, and the Trenchart, Casement Series. She is currently the Board President of Les Figues Press, a non-profit alternative literary publisher. Corey received a BA in anthropology and photography from the University California at Santa Cruz, a MFA from Otis College of Art and Design and a MA from UCLA's Critical and Curatorial Studies program. She currently teaches at Loyola Marymount University and University of Southern California. She lives and works in Los Angeles.
Cayetano Ferrer (b. 1981) received an MFA from the University of Southern California Los Angeles, in 2010, and in 2006 a BFA from the School of Art Institute of Chicago. Recent exhibitions include: Made in LA, at The Hammer Museum, LAXART, and the LA Municipal Art Gallery Los Angeles (2012); forecast the days [...], at Galerie Max Mayer, Düsseldorf, Germany (2012); Saul Borisov Archive, at the Roski MFA Gallery at USC, Los Angeles (2011); The New Verisimilitude, at Francois Ghebaly & M+B Gallery, Los Angeles (2011); Forced Perspective, at Mayerei, Karlsruhe, Germany (2010); FIESTA / LA ANONIMA, as part of Works Sited @ Los Angeles Public Library. Ferrer has won several awards including: Artadia Los Angeles Award (2013); the California Community Foundation Emerging Artist Fellowship for Visual Arts (2013); the USC Kathleen Neely Macomber Travel Award (2010); and the Union League Civic and Arts Foundation Visual Arts Award (2006).
For fifty years, Dan Graham has traced the symbiosis between architectural environments and their inhabitants. With a practice that encompasses curating, writing, performance, installation, video, photography and architecture, his analytical bent first came to attention with Homes for America (1966–67), a sequence of photos of suburban development in New Jersey, accompanied by a text charting the economics of land use and the obsolescence of architecture and craftsmanship. Graham's critical engagement manifests most alluringly in the glass and mirrored pavilions, which he has designed since the late 1970s and which have been realised in sites all over the world. These instruments of reflection – visual and cognitive – highlight the voyeuristic elements of design in the built world; poised between sculpture and architecture, they glean a sparseness from 1960s Minimalism, redolent of Grahams's emergence in New York in the 1960s alongside Sol Le Witt, Donald Judd and Robert Smithson. Graham himself has described his work and its various manifestations as 'geometric forms inhabited and activated by the presence of the viewer, [producing] a sense of uneasiness and psychological alienation through a constant play between feelings of inclusion and exclusion.' The pavilions draw attention to buildings as instruments of expression, psychological strongholds, markers of social change and prisms through which we view others and ourselves.
Dan Graham was born in Urbana, Illinois in 1942 and lives and works in New York. He has had retrospective exhibitions at the Museum of Contemporary Art, Los Angeles (2009), Castello di Rivoli Museo d'Arte Contemporanea, Turin (2006), Museu Serralves, Porto, (2001), Museum of Modern Art, Oxford (1997), Van Abbemuseum, Eindhoven, (1993), Kunsthalle Berne (1983) and the Renaissance Society, University of Chicago (1981). He has participated in documenta 5, 6, 7, 9 and 10 (1972, 1977, 1982, 1992, 1997). Among numerous awards he received the Coutts Contemporary Art Foundation Award, Zurich (1992), the French Vermeil Medal, Paris (2001) and was honoured by the American Academy of Arts and Letters, New York in 2010.
Lia Halloran grew up in the Bay Area surfing and skateboarding while developing a love of science at her first job in high school at the Exploratorium in San Francisco doing cow eye dissections and laser demonstrations. She received her BA from UCLA in 1999, attended SACI 1997-1998 and continued to take astronomy class while in her MFA painting Program at Yale. Halloran's work often uses concepts in science as a bounding point for her work, exploring how perception, time, and scale informs the human desire to understand the world and our emotional and psychological place within it. Her work has been acquired by the Solomon R. Guggenheim Museum New York, The Speyer Family Collection, New York, The Progressive Art Collection, Cleveland and the Art Museum of South Texas. Solo exhibitions have been held at venues in New York at DCKT Contemporary, Miami at Fredric Snitzer, Boston at la Montagne Gallery, Los Angeles at Martha Otero Gallery, Pulse in London, Barry Whistler Gallery in Texas, and currently in Vienna, Austria at Hilger NEXT. Halloran's work has been featured in publications including The New York Times, The New Yorker, The BostonGlobe, The Los Angeles Times, ArtNews, and New York Magazine among others. She lives and works in Los Angeles and currently serves as a Assistant Professor of Art at Chapman University and oversees the Painting and Drawing Department where she teaches painting, drawing and courses that look at how Art and Science intersect. She is currently represented by Martha Otero Gallery in Los Angeles, and DCKT Contemporary in New York.
Olga Koumoundouros was born in New York, NY and lives and works in Los Angeles CA. She received her MFA from the California Institute for the Arts. Koumoundouros' work has been exhibited at venues nationally and internationally including Armand Hammer Museum, Los Angeles, REDCAT, Los Angeles, Salt Lake City Art Center, UT, The Studio Museum in Harlem, NY, Stadshallen Bellfort, Bruges, Belgium, Project Row Houses, Houston, TX, The Tang Museum, Saratoga Springs, NY among others. She is the recipient of both a Creative Capital and Creative Time commissions. She is represented by Susanne Vielmetter Los Angeles Projects.
Aaron Garber-Maikovska (b. Washington, D.C.) lives and works in Los Angeles, CA. He received his B.F.A. from the University of California, Los Angeles. Recent solo exhibitions include Standard (Oslo, Norway), Greene Exhibitions (Los Angeles, CA), and The Green Gallery (Milwaukee, WI). He has participated in group exhibitions at Kavi Gupta (Berlin, Germany), David Castillo Gallery (Miami, FL), China Art Objects (Los Angeles, CA), Rental Gallery (New York, NY) and Karma International (Zürich, Switzerland).
Alex McDowell RDI, Professor of Practice, USC School of Cinematic Arts, Media Arts + Practice, Director, USC World Building Media Lab, Creative Director and Founder, 5D|GlobalStudio
Alex McDowell is one of the most innovative and influential designers working in narrative media. With the impact of his ideas extending far beyond his background in cinema, he advocates an immersive design process that acknowledges the key role of world building in storytelling.
In his 30+ years as a narrative designer, Alex has worked in commercials and cinema with renowned directors Alex Proyas, David Fincher, Steven Spielberg, Terry Gilliam, Andrew Niccol, Tim Burton, and Zack Snyder, amongst many others. He has designed for consumer, corporate, live performance, and interactive, immersive user space.
From 1999-2001 he worked with Steven Spielberg to production design and develop a world for the film Minority Report, prior to a completed script. The process that evolved changed the nature of his film design process from analogue to digital, and profoundly affected the nature of all digital production, pushing a radical shift towards a non-linear workflow. Since then his work has built on the dynamic relationship between creativity and emergent technologies.
Alex recently designed Man Of Steel, Zack Snyder and Chris Nolan's retelling of the Superman origin story, where he used world building practice and process to build the holistic world of Krypton, its history and its integration with our present day world.
As visiting artist at MIT's Media Lab from 2006-2011 he designed the robot opera Death and the Powers for composer Tod Machover. He is a Getty Research Institute scholar, a member of the Academy of Motion Picture Arts and Sciences SciTech Council, and on the executive board of the AMPAS Design Branch. In 2006, he was awarded Royal Designer for Industry by the UK's Royal Society of Arts, and in 2013 the D&AD President's Award.
McDowell is a Professor of Practice at the USC Cinematic Arts divisions of Interactive Media and Games, Production, and Media Arts and Practice (iMAP), where he is also creative director of the USC World Building Media Lab and the thought leadership network 5D Institute.
He is also the founder and creative director of 5D | Global Studio, an interdisciplinary, multi-platform, and cross-media design studio.
Isaac Resnikoff (b. 1980, Berkeley CA) received an MFA from the University of California Los Angeles in 2009 and a BFA from Cooper Union in 2002. Recent solo exhibitions include Slow Days, Fast Company (Louis B. James, New York), Foundation for a House Made of Air (UCSB AD&A Museum, Santa Barbara), and The Things That Happened (Steve Turner Contemporary, Los Angeles). His work has been included in numerous group shows including exhibitions at Francois Ghebaly (Los Angeles), Samuel Freeman (Los Angeles), Marine Salon (Los Angeles), Rivington Arms (New York), and Pennsylvania Academy of Fine Arts (Philadelphia), and he is also included in The Younger Than Jesus Artists Directory (New Museum and Phaidon Press). He lives and works in Los Angeles.
Geoff Tuck is an artist and writer who divides his time between Los Angeles and Parkfield, CA. He is an autodidact, and received his education in libraries and in conversations. Tuck is the publisher of the online journal Notes on Looking. He has shown his art work in group and solo exhibitions in Los Angeles and internationally.