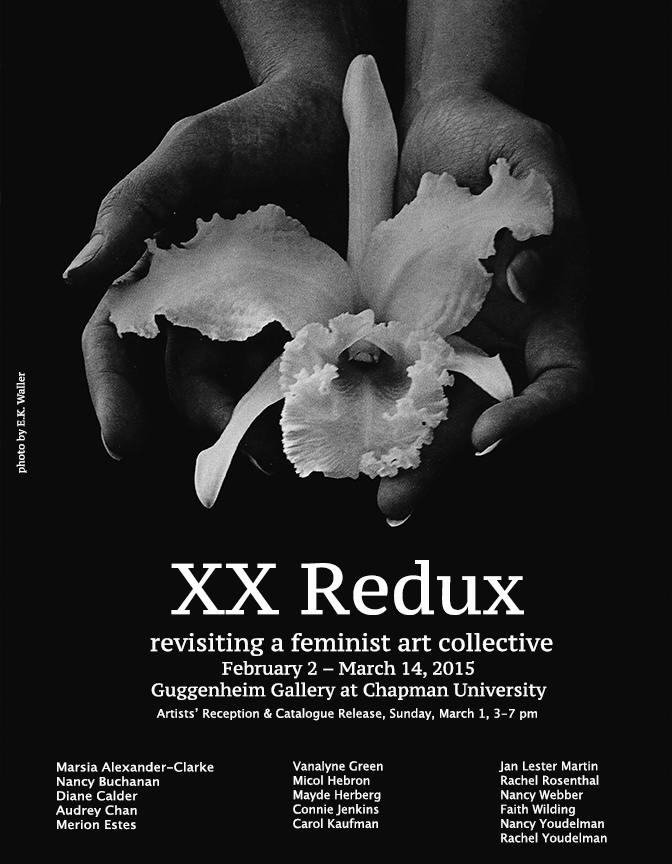 February 2 – March 14, 2015
Artist Reception & Catalogue Release: Sunday, March 1, 2015 3PM-7PM
Video Screening: Monday, March 9, 2015 (Event time: TBA)
Location: Guggenheim Gallery @ Chapman University, One University Drive, Orange, CA 92866
Hours: Monday-Friday, 12-5PM; Saturday, 11AM-4PM
The Guggenheim Gallery at Chapman University is pleased to announce XX Redux – revisiting a feminist art collective. Please join us for the artist reception on Sunday March 1, 2015 from 3:00 PM – 7:00 PM. On this occasion we will present the exhibition catalog with essays by Nancy Buchanan and Elizabeth Dastin.
Join us also on Monday March 9, 2015 (Event time: TBA) for a special screening of works by Audrey Chan and Elana Mann, Rachel Rosenthal, Barbara McCullough, and others.
Double X, a feminist art collective that flourished from 1975-1985, was committed to expanding the visibility of art made by women—not just work by their own members, but by other women, both established and emerging. In their founding statement, XX declared: "We are committed to expanding the notion of what is considered art . . . .We recognize a pluralistic art that is both stylistically diverse and expressive of a variety of points of view in a framework such that although different modes may conflict with one another, they do not negate one another." More perspectives now considered the foundation of the feminist art movement were espoused by Double X—although until now, the group has been left out of history. However, XX contributed to the making of this narrative; one of the first projects of the collective was the publication of Faith Wilding's By Our Own Hands: The Women Artist's Movement in Southern California, 1971-76. This exhibition offers an opportunity to update the record—not necessarily with historic work, but current pieces.
In this spirit, in addition to art made by former XX members, XX Redux includes performance, photography and painting by younger colleagues Audrey Chan and Micol Hebron, who continue to celebrate feminisms.
Recent works featured in the exhibition include sculpture (Nancy Youdelman), drawing and painting (Merion Estes, Micol Hebron, Connie Jenkins, Carol Kaufman, Rachel Rosenthal, Nancy Buchanan, and Faith Wilding), collage (Jan Lester Martin, Nancy Webber), video (Marsia Alexander-Clarke, Vanalyne Green), photography and digital prints (Diane Calder, Audrey Chan, Mayde Herberg, Rachel Youdelman).
An upstairs space displays books by Faith Wilding and Vaughan Rachel, and feminist ephemera from the past, in an installation designed and realized by Gallery Assistants Tayler Bonfert, Gina Kouyoumdjian and Elizabeth Plumb. In addition, Double X Redux will display posters from the Gallery Tally project organized by Micol Hebron, which continues to illustrate the disparity between male and female artists shown in professional art galleries. These chilling statistics reinforce the importance of recognizing the legacy of Double X.