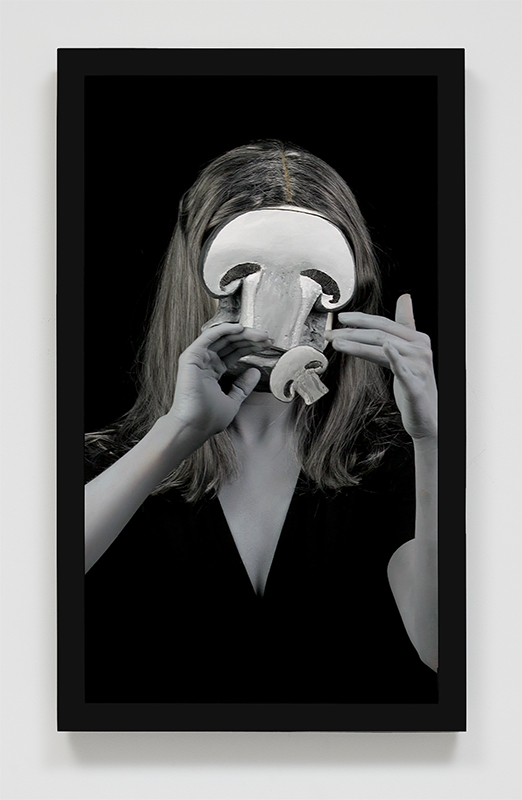 Brian Bress, "The Mushroom (Ellie)", 2012; High definition single-channel video
SNIFF THE SPACE FLAT ON YOUR FACE 
Brian Bress, Cameron, Marc Chagall, Animal Charm, Salvador Dali, India Lawrence, Max Maslansky, Juliana Paciulli, Dani Tull, Jeffrey Vallance, Matt Wardell; Curated by Marcus Herse
August 25 – September 25, 2014
Artist Reception & Catalogue Release: Sunday, September 21, 2014 3PM—7PM
Hours: Monday—Friday, 12—5PM; Saturday, 11AM—4PM
The Guggenheim Gallery at Chapman University is pleased to announce Sniff the Space Flat on Your Face. Please join us for the artist reception on Sunday, September 21st  2014, from 3PM – 7PM, coinciding with the release of an exhibition catalog.
The fundamental phenomena in art are cyclical, and there is a recurring tendency that often marks a period of transition. It appears between the exhaustion of one era and the vitality of another. It is an aggressive, yet greatly refined spirit, that surfaces in periods such as Surrealism, or Psychedelic Art, and owes its heritage to such disparate movements as Hellenism, Mannerism, Rococo and Romanticism, In it lies a suspicion towards the real as the current knowledge of an epoch defines it and its zeitgeist perceives it, and the general notion that the rational models of art and thought are fragments 'imposed by the limitations of man's consciousness upon the unlimited variations of his internal and external world.'*
'Sniff the Space Flat on your Face' brings together historical and contemporary positions working with allegiance to this tradition. The artists in the exhibit summon the irrational, the otherworldly, the dramatic and grotesque. They celebrate the poetry of morphing images, uncovering the beautiful spasms, and marvelous states of excitement, which penetrate into our world from underneath the skin of reality.
*Stanley Krippner, 'Die hypnotische Trance, die psychedelische Erfahrung und der kreative Akt'
Special Thanks to Charlene Baldwin and Essraa Nawar at Leatherby Libraries Chapman University, Scott Hobbs at Cameron Parsons Foundation, Cherry and Martin, Greene Exhibitions and Emi Fontana.
Brian Bress has been widely praised for his brash experiments in installation, video and photo-collage. Sometimes compared to Nauman and the Dadaists, Bress takes an almost maniacal pleasure (coupled with apparently nihilistic abandon) in creating works that smash these diverse media together like so many atoms. He is playful in his criticism of formal strategies at large, but avoids the pitfalls of merely self-indulgent social commentary.
Bress's works have been called "crudely elaborate" in their similarity to sketch comedy television programming, while evoking in the viewer an intelligent awareness of the deeply critical position of the art world at large.  His position, overlapping the space between the inane and the sublime, is in a constant state of deliberate transformation with each new body of interrelated videos, photographs and collages.
Bress received his MFA from the University of California, Los Angeles and BFA from Rhode Island School of Design. Upcoming solo exhibitions include the Utah Museum of Fine Arts (Salt Lake City, UT, 2015) and the Museum of Contemporary Art (Denver, CO, 2016). Recent exhibitions include the Santa Barbara Museum of Art (Santa Barbara, CA), the New Museum, (New York, NY); Museum of Contemporary Art (North Miami, FL); the Institute of Contemporary Art (Philadelphia, PA); Arthouse (Austin, TX); the Parrish Art Museum (South Hampton, NY); the University of South Florida Contemporary Art Museum (Tampa, FL) and the Utah Museum of Contemporary Art, (Salt Lake City, Utah). His video Under Cover (2007) was included in the landmark exhibition California Video (2008) at the Getty Museum, Los Angeles. His work has been reviewed in such publications as The New York Times, Los Angeles Times, Artforum, Art in America, Art Review and Frieze. He lives and works in Los Angeles and is represented by Cherry and Martin.
Cameron (Marjorie Cameron Parsons Kimmel) (1922-1995) is one of the most fascinating underground figures of mid century California. A maverick follower of the esoteric mysticism of Aleister Crowley and his philosophical group, the O.T.O. (Ordo Ternpli Orientis), Cameron was also an accomplished painter and draftsman and mentor to younger artists and poets such as Wallace Berman, George Herms, David Meltzer, and Aya.
Cameron's works demonstrate refined draughtsmanship, formal command, and fantastic imaginative powers. Her sensitive drawings and paintings delineate a magical realm, of metamorphosis and protean transformation. Featuring symbolic creatures in imaginary landscapes, her delicately articulated artworks rival those by fellow surrealists such as Leonora Carrington, Remedios Varo, Ithell Colquhoun, and Leonor Fini. They also seem fascinatingly prescient of fantastical works by contemporary artists such as Kiki Smith, Amy Cutler, Karen Kilimmck, and Hernan Bas.
Marc Chagall was a Belarussian-Russian-French artist. Art critic Robert Hughes referred to Chagall as "the quintessential Jewish artist of the twentieth century" (though Chagall saw his work as "not the dream of one people but of all humanity"). An early modernist, he was associated with several major artistic styles and created works in virtually every artistic medium, including painting, book illustrations, stained glass, stage sets, ceramic, tapestries and fine art prints.
Animal Charm is a video centric artist collaborative and it's also the spell you use in Dungeons and Dragons to get an animal to do your bidding, a quote from 60′s poet Rod Mckuen, and recently, it is Jim Fetterley and Rich Bott whom "much like 'Bobby Brown of New Edition'" want to put their names next to their collaborative title.
The duo has been composing, projecting, and installing disruptive and entertaining video collage in live events for clubs, social settings, art museums and galleries since the 1990′s.
Salvador Dalí was a prominent Spanish Catalan surrealist painter born in Figueres, Spain. Dalí was a skilled draftsman, best known for the striking and bizarre images in his surrealist work. His painterly skills are often attributed to the influence of Renaissance masters. His best-known work, The Persistence of Memory, was completed in August 1931. Dalí's expansive artistic repertoire included film, sculpture, and photography, in collaboration with a range of artists in a variety of media.
India Lawrence was born in London, England, and currently resides in Los Angeles, CA. She completed the Yale Norfolk School of Art in 2010, and graduated from Bard College in 2011, where she received the Milton and Sally Avery Scholarship for the Arts. India has been included in group exhibitions at Tilton Gallery in New York, Betterday in New Mexico, and Roberts and Tilton, Greene Exhibitions, and Secret Recipe in Los Angeles. Represented by Greene Exhibitions in Los Angeles, she is currently preparing for a solo presentation at Art Berlin Contemporary in the fall and a one person exhibition in Los Angeles in 2015.
Max Maslansky lives and works in Los Angeles. This year he was included in "Made in L.A." at the Hammer Museum, Los Angeles; "Made in Space" at Night Gallery, Los Angeles, which travelled to Gavin Brown's Enterprise and Venus Over Manhattan, New York in 2013; and "Boiled Angel" at Woodmill GP, London in 2013. He was also included in a 3-person exhibition at Regina Rex, Brooklyn, New York in 2013. He will have a solo exhibition at Five Car Garage, Los Angeles in November 2014 and at Honor Fraser, Los Angeles in the Spring of 2015. Maslansky is also the host of a bi-monthly radio show entitled "Riffin'" on Kchung Radio, Los Angeles.
Juliana Paciulli (b. 1980) is a Los Angeles-based artist. She received her MFA from the University of California, Davis in 2004 and BFA, Magna Cum Laude, from Virginia Commonwealth University in 2002. Solo exhibitions include: Are You Talking to Me at Greene Exhibitions in 2013, Sensors at Las Cienegas Projects in 2009 and The Girl Who Knew Too Much, Episode II at Black Dragon Society in 2005. In 2009, she participated in the three-person exhibition Sharon Lockhart, Juliana Paciulli and Caecilia Tripp at Martos Gallery in New York and was selected by Rineke Dijkstra to attend the Atlantic Center for the Arts residency in New Smyrna Beach, Florida. Her work is included in the collection at the Henry Art Gallery in Seattle as well as many private collections.
Dani Tull is a Los Angeles-based artist. He received his MFA from Stanford University and a BFA from The San Francisco Art Institute. He has exhibited in galleries and museums internationally; selected solo exhibitions include Blum and Poe, Kim Light Gallery, Jack Hanley Gallery, Fredericks & Freiser, Torch Gallery in Amsterdam, Wewerka in Berlin and most recently at On Stellar Rays in New York. His work has been written about in The New York Times, Los Angeles Times, Artforum, Art in America, I.D. Magazine, Art Review and Frieze amongst others. During his career, Dani has collaborated with a variety of internationally recognized artists such as Jim Shaw and Raymond Pettibon. As an accomplished musician and composer, he has recorded and performed with a great variety of musicians. Recent musical projects include solo performances for SASSAS, West Of Rome and LAFMS. Permanent collections include The Metropolitan Museum of Art, The Getty, The Laguna Art Museum and The Peter Norton Family Collection.
Jeffrey Vallance was born in 1955 in Redondo Beach, California. In 1979, he received a B.A. degree from California State University, Northridge. In 1981, he earned an M.F.A. from the Otis Art Institute, Los Angeles.
Jeffrey Vallance has presented exhibitions at museums and galleries around the world, including Dakar, Senegal; Reykjavik, Iceland; Zürich, Switzerland; Milan, Italy; Paris, France; Mexico City, Mexico; Amsterdam and Middelburg, Holland; Vienna, Austria; Sydney and Tasmania, Australia; Stockholm, Sweden; London, England; and Athens, Greece. He is represented by Bernier/Eliades in Athens, Galerie Nathalie Obadia in Paris and Tanya Bonakdar in New York. Vallance was host of MTV's The Cutting Edge in 1983 and has appeared on NBC's Late Night with David Letterman. In 2004, Vallance received the prestigious John Simon Guggenheim Memorial Foundation award for installation art.
Jeffrey Vallance's work blurs the lines between object making, installation, performance, curating and writing. Critics have described his work as an indefinable cross-pollination of many disciplines. Often his installations are exhibited in site-specific locations. Examples include such projects as burying a piece of meat (chicken) at a pet cemetery in California; traveling throughout Polynesia in search of the origin of the myth of Tiki; having an audience with the king of Tonga; having an audience with the queen and president of Palau; meeting with the presidents of Iceland; creating a Richard Nixon Museum; traveling to the Vatican, Turin, and Milan, Italy to study Christian relics; installing an exhibit aboard a tugboat in the Västerbotten Maritime Museum in Umeå, Sweden; curating shows in the so-called fabulous museums of Las Vegas, such as the Liberace Museum, Debbie Reynolds Casino, Cranberry Museum and the Clown Museum; initiating a campaign called "Preserving America's Cultural Heritage" (a federal bill that would establish a benefit fund for all living visual artists in the United States); and fashioning a shamanic "magic drum" in Lapland. In Orange County, California, Vallance curated the only art-world exhibition of the Painter of Light™ entitled "Thomas Kinkade: Heaven on Earth."
In addition to exhibiting his artwork, Mr. Vallance has written for such publications and journals as Art issues, Artforum, L.A. Weekly, Juxtapoz, Frieze and Fortean Times. He has published over 10 books including: Blinky the Friendly Hen, The World of Jeffrey Vallance: Collected Writings 1978-1994, Christian Dinosaur, Art on the Rocks, Preserving America's Cultural Heritage, Thomas Kinkade: Heaven on Earth, My Life with Dick, Relics and Reliquaries, and The Vallance Bible.
In 1995, Mr. Vallance served as artist-in-residence at the University of Nevada, Las Vegas; from 1999 to 2001, he was Professor in International Contemporary Art at the Umeå University in Sweden; in 2002, Vallance was visiting artist at the University of Texas at San Antonio and artist-in-residence at the University of Tasmania; in 2007, he was visiting professor at the University of California, Santa Barbara. From 2003 to 2009, he taught New Genres in the Art Department at UCLA. Since 2010 he has taught "The Art of Infiltration" at California Institute of the Arts.
Matt Wardell seeks to prolong a sense of wonder and place the viewer in a lingering position of active assessment. He is interested in how we choose to live and introducing work that facilitates these investigations. Wardell enjoys walking on fences, answering wrong numbers, and giving directions to places he does not know. Uncomfortable laughter, confusion, and irritation tend to be by-products of Wardell's works. He has exhibited at venues throughout the US and Mexico, including the Museum of Modern Art in San Francisco (SFMOMA), Claremont Museum of Art in Claremont, and at Los Angeles Contemporary Exhibitions (LACE), REDCAT, PØST, Human Resources, Black Dragon Society, Mark Moore Gallery, and Commonwealth and Council, all in Los Angeles. Wardell is a founding member of the artist collective 10lb Ape.