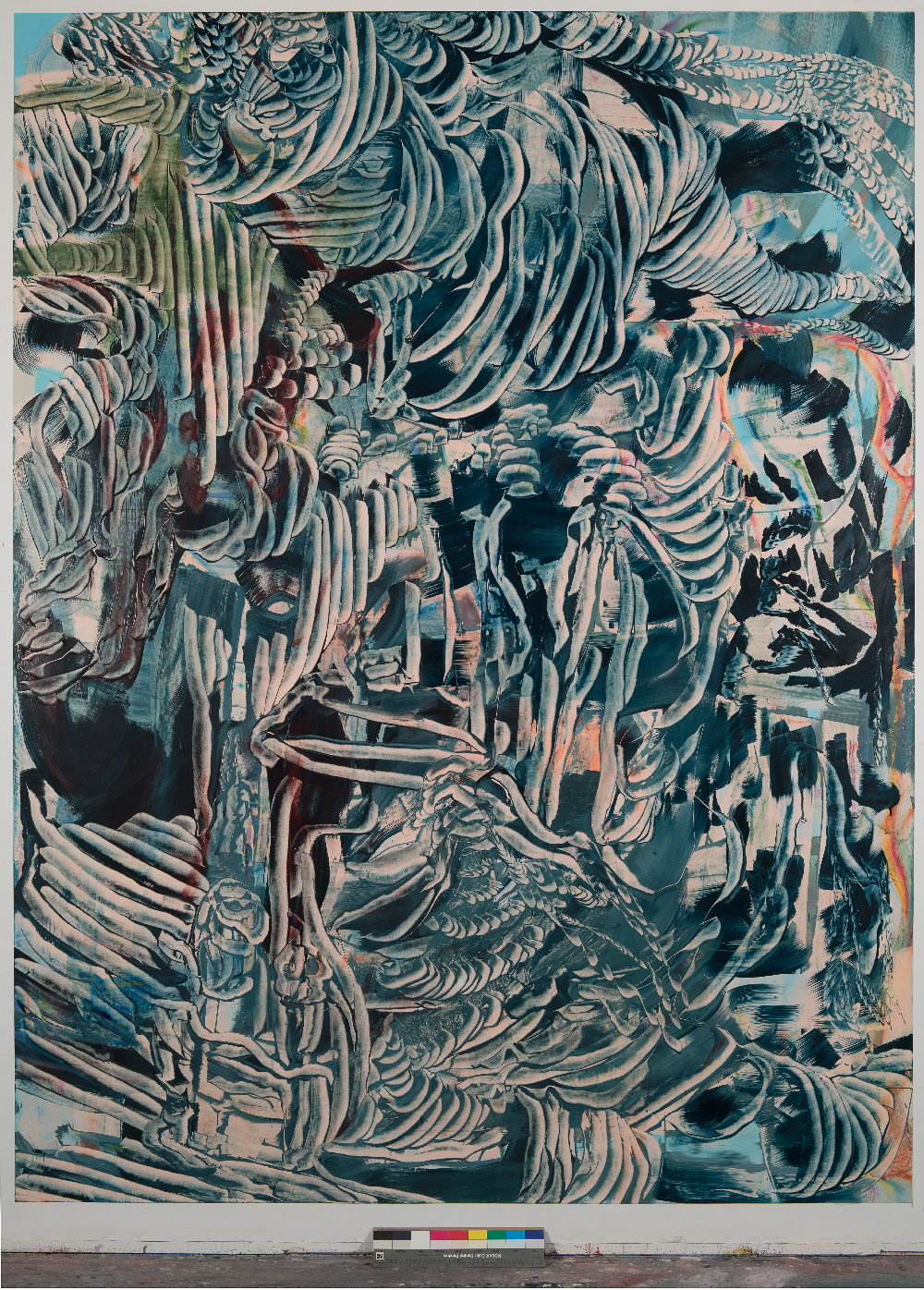 Gregor Gleiwitz, 15.11.2017. Oil on canvas, 240 x 190cm
Glass Tambourine
Mark Flores
Gregor Gleiwitz
Pearl C. Hsiung
Pamela Jorden
Michael John Kelly
Rachel LaBine
Emily Marchand
l
January 29th – March 11th, 2018
Artist reception Sunday, February 11th, 2018
Guggenheim Gallery at Chapman University
1 University Dr, Orange, CA 92866
Is space a form of enlightenment?
freely adapted from Maurice Merleau-Ponty
A glass tambourine is certainly difficult to use. It would be interesting to know what kind of frequencies you actually produce when you play it, provided it does not break. On the one hand, it offers the advantage of being absolutely clear, so to speak, transparent. On the other, it has been understood, seen through, and is now an object without any secret. The inclined reader already suspects that the exhibition title is not meant in a literal way, but rather figuratively alludes to a certain condition, namely the availability of forms of expression that are decontextualized from their origin into an empty form.
Examples of this inner emptiness are the tambourine-sound imitated in the computer with the help of emulated synthesizers, or the plethora of visual effects that we have at our disposal in digital photo- and video-editing. They aim to deliver a specific sound or look that has been decided in advance, disassembled into its parts and analyzed, put back together and readily available for purchase and use. But the idea that the computer is a toolbox with which the artist now accesses a world of boundless expression is erroneous because the box itself is the only tool we work with. The use of once vital forms of artistic expression that are now applied out of context to produce a certain effect we could call kitsch – the opposite of avant-garde. A Taoist would probably add that when the outcome of an action is known with certainty, this action is already in the past. Whatever we call it, in it we recognize the same worldview that determines our global economy, our political landscape and 'social' media. And we find it applied to the realm of art, which, in the sense of a continued modernist utopia, whether it be 'post' or otherwise altered, represents the exact opposite of the precisely quantified and standardized product. And so we see flocks of artists far from their actual mission, the discovery of visionary and surprising expressions, now merely working in so-called industries to re-arrange prefabricated components.
Are now the artists in the exhibition examples and illustrations of the opposite state? And what kind of state would that be? Should I throw away my computer? Maybe after I'm finished typing this text… -  We can't turn back the digital clocks nor do we want to and lines are hard to draw; Standardization begins long before I switch on my computer with the use of industrially produced paints, brushes, canvases. Then cameras, monitors, etc.
The works the artists in the exhibition create however are arrived at in dialogue with the used materials, which is informed by a kind of behavior that is directed towards this material, acknowledging its existence as much as ones own. We, our bodies, do this in space. This processual 'acting-in-accordance-with' lets us be active participants, wholly present in the unfolding of the becoming of the artwork. This is substantially different from the production of a predicted effect and hints at the possibilities of a development over time, and the notion of surprise as positive values, whereas in the currently dominating view these qualities are deemed obstacles to be overcome or eradicated. Think: (profit-)maximization, streamlining and efficiency, terms that are increasingly also describing forms of contemporary art practice. We can infinitely access and manipulate the recordings of past forms of expression to our liking in a kind of master/slave relation – but we are also fundamentally separated from the world in that we exclude our corporeality and its entanglement with the environment and all the reverberations this can have in our art.
For the artists in the exhibition, what is 'said' is inevitably associated with its own physicality. This goes beyond the notion of the integration of form and content, but rather requires that expression and form create and suppose one another. Creative process takes place in an open interactive loop as a negotiation of material and its formability, and the artist and their formability. The works in the show all have a heightened awareness for a body that does not only see with its eyes; be it the stacked and boxed painting-sculptures by Mark Flores, abstract clay handwritings by Emily Marchand, Pearl C. Hsiung's neon-landscape installation, Gregor Gleiwitz's ectoplasmatic beings, the virtual line drawings in space by Michael John Kelly, works by Pamela Jorden that juxtapose geometry with painterly geography, or the precise gestural formulations of thingness in Rachel LaBine's works.
And so the exhibition asks: What is different when we play a tambourine that is made of wood and skin and metal? The sound?
Mark Flores was born in Ventura in 1970 and currently lives in Los Angeles. He reveived his MFA in 2002 from CalArts and his BA from UCLA in 1999. Flores has had solo exhibitions at David Kordansky Gallery in Los Angeles and Alison Jacques Gallery in London. His work was also included in group exhibitions at the Museum of Contemporary Art, Chicago; Orange County Museum of Art, Newport Beach; Patricia Faure Gallery, Santa Monica; California State University, Los Angeles; Golinko Kodansky Gallery, Los Angeles. Reviews and articles of Flores' work have appeared in Artforum, Flash Art, Los Angeles Times, Frieze, and The New York Times.
The painter Gregor Gleiwitz was born in 1977 in Poland and lives and works in Berlin. He studied at the Art Academies of Mainz and Münster before becoming master student of Prof. Mechtild Frisch in 2007. Among his group exhibitions are shows at the Badischer Kunstverein, Karlsruhe, and at the Kunstverein Hannover for "Made in Germany 2″ (both 2012). Solo shows include "Faun's Fount" at Acme., Los Angeles, USA in 2016. While many of Gleiwitz's works may arise from familiar subjects like portraits or landscapes, their unique language calls for the viewer to adopt an entirely new vocabulary and challenges their relation to the image.
Pearl C. Hsiung's painting, drawing and video works explore states of physical, psychical and metaphysical metamorphosis. Often these transformations play out in anthropomorphizing landscapes verging on portraiture, where the geological and biological collide and collapse, raising questions about the nature of nature. Hsiung's video works bring these ideas out into an order of social space, beyond the pictorial plane, to further investigate the mediation of social life, nature and constructed images in an endlessly transforming universe. Pearl C. Hsiung received her BA at the University of California, Los Angeles (1997) and her MFA at Goldsmiths College, London (2004). Hsiung has had solo exhibitions at the Vincent Price Art Museum, East Los Angeles College (2011); Steve Turner Contemporary, Los Angeles (2007, 2010); and Max Wigram Gallery, London (2006). Hsiung's work has been featured in group exhibitions including Made In L.A. 2012, Hammer Museum, Westwood; Bitch Is The New Black, Honor Fraser, Los Angeles (2009); Acclimatation, Villa Arson, France (2008); Humor Us, Los Angeles Municipal Arts Gallery (2007); 2006 California Biennial and Disorderly Conduct: Art in Tumultuous Times (2008) both at the Orange County Museum of Art; 2006 Busan Biennale, South Korea and Expander, Royal Academy of Fine Arts, London (2005).
Pamela Jorden is a Los Angeles based artist who makes abstract paintings that encourage a phenomenological experience of painterly space defined by color, mark, composition, and light. She received her BFA from the University of Tennessee, Knoxville (1992) and her MFA from California Institute of the Arts in Valencia, California (1996). Jorden has had solo exhibitions at Klaus Von Nichtssagend Gallery (New York, NY); Romer Young Gallery (San Francisco, CA); David Patton Los Angeles (Los Angeles, CA), Mason Gross Art Gallery, Rutgers University (New Brunswick, NJ). Selected group exhibitions include Around Flat, Knockdown Center (Maspeth, NY); NOW-ISM: Abstraction Today at the Pizzuti Collection (Columbus, Ohio); Alice Konitz, Pamela Jorden, Jeff Ono at Samuel Freeman Gallery (Los Angeles, CA); Forms of Abstraction at the Irvine Fine Arts Center (Irvine, CA). Her work has been reviewed in numerous print and online publications including Art Forum, Art in America, ArtNews, and ArtPractical.  A monograph, Pamela Jorden 2004-2014, with an essay by Sarah Lehrer-Graiwer and a conversation with Kaveri Nair and Alice Könitz has been released through Klaus von Nichtssagend Gallery and Black Dog Publishing.
Michael John Kelly received his MFA in painting from UCLA in 2013. His work in painting, sculpture, and video bridges his investigations of family, classical and pop cultural mythologies, and ways of considering the sublime in a post faith, networked society. The son of an Austrian expatriate and a Texan businessman, Michael lost both parents as a boy before slowly pursuing his education as a painter, teacher, and artist. His Berlin debut show, "Language" explores the problems of translating an artist practice between two familiar but different cultural experiences. His last Los Angeles solo show, "Darklands" considered analog art making with digital tools, identity and empathy through the abstractionist's lens, and the artistic life in contemporary Los Angeles. With his wife and daughter, Michael lives and works in Berlin and Los Angeles.
Rachel LaBine (b. 1987, Grand Forks, North Dakota) is in her first year of the MFA program at Columbia University. Recent exhibitions include Lyles & King, New York; Fourteen30 Contemporary, Portland; Ms. Barber's, Los Angeles; and Kodomo, New York. Her work has been featured in The New Yorker, ArtViewer, and Sex Magazine. She lives between New York and Los Angeles.
Emily Marchand (b. Sacramento, CA) received her BA from UCLA School of Arts and Architecture and her MFA from California Institute of the Arts. Marchand works with food, textiles, and sculptural materials to create artworks centered around survivalism, preservation, and the decentralization of humans in relation to ecology and nature. Between research and production, she grapels with making sculpture that encompasses the conceptual ideas she is investigating while maintaining integrity to the materials used especially their history, location, usefulness, and abilities. Her main interests are materials from the earth that have transformative abilities (i.e.clay into ceramics, salt crystallization, tree sap into amber, seeds, beeswax and fibers.)